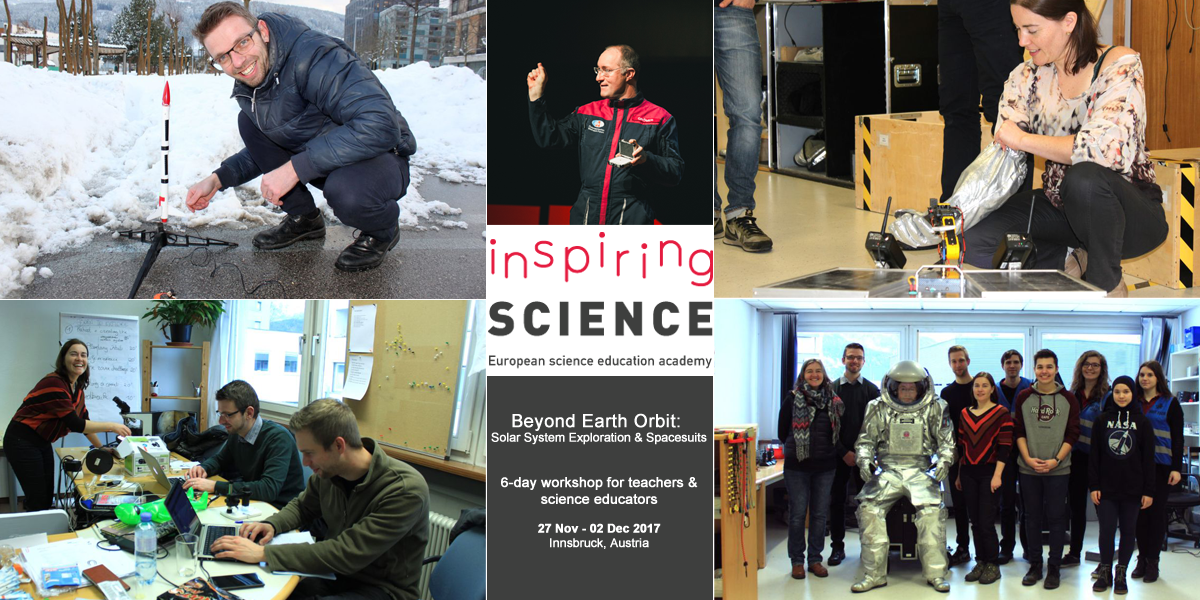 Beyond Earth Orbit: Solar System Exploration and Spacesuits 27.11.2017 - 02.12.2017, All Day
This 6-day workshop will provide a state-of-the art overview on solar system exploration: Ranging from robotic mission to the dusty deserts of Mars, the spectacular Saturn System to the ice-worlds of Pluto. In a series of interactive lectures, the participants will learn about the engineering challenges, programmatic backgrounds and the scientific dimension of recent solar system exploration missions. The programme will also introduce educational tools and classroom activities for various student age groups and how to implement them in the daily teaching.
A special focus is on human spaceflight, including future human Mars missions – a specialisation where the hosting organisation, the Austrian Space Forum, offers a significant expertise – especially in the field of human-robotic Mars simulations. As a highlight, the participants will be introduced to the Aouda.X, currently Europe's only Mars exploration spacesuit simulator: How it is built and operated, what kind of challanges will astronauts encounter when exploring Mars. This will also include practical exercises using a small Mars mock-up rover and training equipment for the analog astronauts of the Austrian Space Forum. The international flavor of the event also aims to offer teachers the opportunity to make links with colleagues and schools in other countries.
The course fee for is 70€/day. The course fee covers:
All materials needed for the course
Tuition fee for lectures, seminars and workshops
More information:
Read also report from the 1st teacher training in Jan 2017:
Beyond teacher training: Exploring techniques to inspire next-gen explorers
Details
27.11.2017 - 02.12.2017
All Day

Location
OeWF Office Innsbruck
Sillufer 3a
6020 Innsbruck
iCal
OeWF Offices
Office Innsbruck / PolAres Spacesuit Laboratory
Sillufer 3a, 6020 Innsbruck, Austria
Office Berlin Holsteinische Strasse 12, 12163 Berlin, Germany