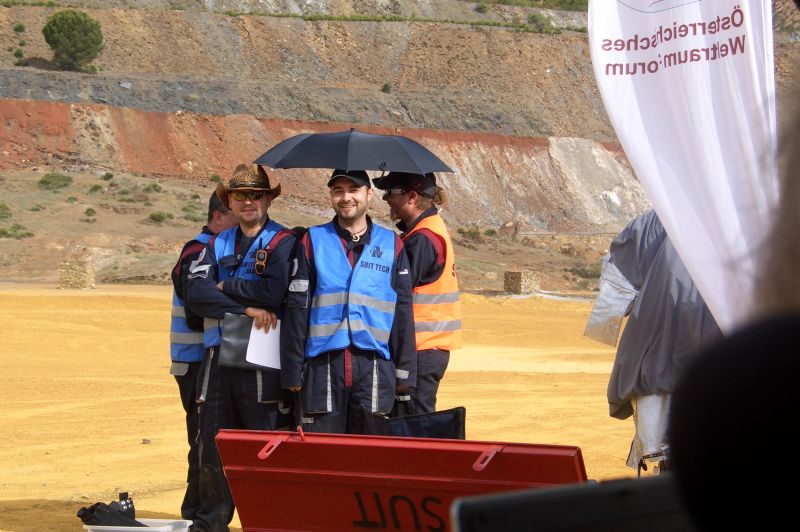 Ulrich Luger is the central point. He is used to it. On this sunny morning a bunch of people is standing around- and handing stuff to him: special underwear, headgear, a few uncomfortable looking parts for his arms and legs and many, many more cables and sensors. The spacesuit simulator, he is dressing will be used for a broad variety of experiments.
The most comprehensive experiment is the "Long Term Medical System" developed from ESA which is already included into the Aouda.X spacesuit. It does much more than just to count the heartbeats of the tester; it is as well monitoring the body temperature and ECG recording. In addition there is a pulse monitoring as a non-invasive monitoring of the Extra Vehicular Activity (EVA). Another system is continuously checking the temperature inside the suit – not unimportant when the inside temperature will rise after some time no matter what the ambient temperature is.
In order to ensure that the suit tester gets not too exhausted during the intense work, before and after an EVA blood pressure, pulse and oxygen saturation are measured. Especially after a struggling mission the values are interesting. In addition to the medical tests the communication system of Aouda.X is tested as well.
Another interesting detail to know – once the suit tester is out of Aouda.X the tests are not over. No it just starts to get thrilling because a very important question is which kind of germs are growing inside a suite after a hard day's work with it. Main target is to collect data about possible risks of contamination on a long term space flight. The health of the astronaut depends on it.
Schedule for the afternoon is geophysics.  Together with two scientific assistants the suit tester performs a few measurements with the Ground Penetration Radar (GPR). The purpose is to collect data about the soil conditions.  Scientists at the MCC in Innsbruck will analyze the gained data.
Special highlight for today: First performance of the Eurobot from the ESA. Slowly the rover leaves – remotely controlled – the tent and performs a first run-out to acclimatize with the unknown terrain.  It is the first – and for sure not the last – run into the wide and unexplored world of a mars analog research site. A man and his suit are waiting for it.
This article is available in: German
OeWF Office
Büro Innsbruck Etrichgasse 18, 6020 Innsbruck, Austria