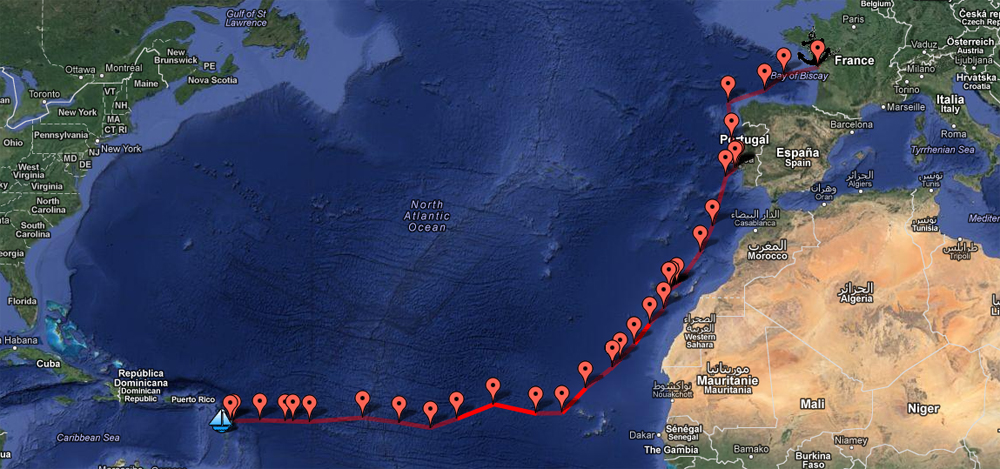 I
n November 2007, a 6-person crew started out on a Katameran in a month-long sailing adventure from La Rochelle on the French Atlantic coast in the direction of Guadeloupe in the Caribbean. On board: Human factors research experiments of the OeWF, Object Tracker, and the University of Innsbruck Professor Thomas Luger from the Medical University of Innsbruck who serves both as doctor as well as scientific officer of the 14-meter ship named "Lagoon 440." This ship and all on board sail the ocean with 9.5 tons of displacement and 105 m2 of sail surface area.
"Such an isolation experiment is an ideal precondition to study the development of psychological effects"
sums up Dr. Doris Peham from the Institute of Psychology at the University of Innsbruck. This institute is responsible for psychological measurements just as they were recorded and collected from the AustroMars crew during the simulated Mars Expedition in the desert of Utah:
"Even if the crew is not the same, it is still very much an interesting comparison sample for our research."
TEST BATTERY
In cooperation with the company Object Tracker and the University Hospital Basel (Prof. Cajochen), the OeWF created a test battery, in which once more the innovative "Fatigue Monitoring System" was used to measure the fatigue profiles of the crew.
"With AustroMars, we have established a solid reference case"
describes Dr. Gernot Grömer the experiment, project coordinator for the OeWF,
"because we have made complementary pupillographic measurements in Utah, among other measurements which in turn is painstakingly calibrated with EEG measurements".
Beginning on October 20, 2007, the sailing journey lasted a total of six weeks on the high seas. In addition to all the science, this sailing journey was an extraordinary physical and mental challenge led by Skipper Walter Thurner, who himself had completed several offshore regatta races and who is employed in his "civilian profession" at the Austrian Federal Railway.
Dieser Artikel ist auch verfügbar auf: German