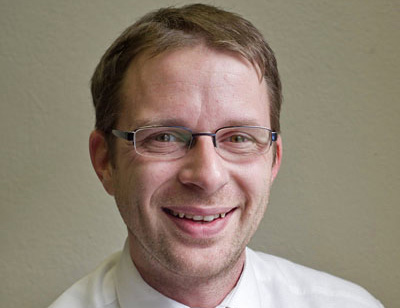 INTERVIEW with CHRISTOPH RAGONIG from AUSTRIA
Team & Task(s)
Christoph Ragonig is one of the Flight Directors in the Mission Support Center (MSC) in Innsbruck during the MARS2013 mission. He is responsible for both the project staff in Austria and the field crew in Morocco, as well as for ensuring the safe and smooth execution of the field simulation. He lives and works in Tyrol.
Space & MARS2013
How did you first get in touch with the topic of space / astronomy / analog research?
I was watching one of the first experiments with the Aouda.X spacesuit on the roof of the Sillufer 3a building (Red Cross Innsbruck headquarters) while I was active in the emergency medical services.
When did you first hear about the Austrian Space Forum (OeWF)?
When I went outside to take a closer look at what was going on with this silver-coloured suit on the building roof next door. Since I already knew Gernot Grömer (the OeWF president) very well from the Red Cross, the road from asking curious questions to active participation was very short.
How did you learn about the "MARS2013" mission?
I learned about it from Gernot during the planning stages.
Why did you choose to participate?
If not us, and if not now, who is going to answer questions about a manned Mars Mission? After working on the "RioTinto Mission" in Spain in 2012, the question of my participation in MARS2013 was purely rhetorical.
What was your first impression when you got involved with the OeWF team?
An enthusiastic bunch of diverse and colourful personalities from around the world and with all sorts of backgrounds (from university professors to students), all of them with the common goal of creating a reliable research platform for bringing us one step closer to the dream of travelling to Mars.
What is your personal goal in this mission?
Firstly, I would like to use my leadership position to help the participants have an enjoyable, but also an educational experience. And secondly, to collect data for my "proof-of-concept" project within the framework of my University studies.
Work, Life & Family
What I do for a living:
Medical technician for linear particle accelerators (radiation therapy), IT student (part-time), paramedic and head of operations at the Red Cross Innsbruck.
A typical day in my life looks like this:
Coffee is the first order of the day. After checking emails and news from around the world, I first go to the office or the hospital to make sure everything is running smoothly and then keeping up with the inevitable paperwork. If the accelerators are in working order, I have time to work on the project for my thesis. I must be able to respond quickly to emergencies at work, which means my on-call cell phone is a constant companion. All things considered, on a typical day nothing at all might happen, or all hell breaks loose. In recent years, I have acquired the capacity to recharge my energy during the quiet times, so that I can call upon it when emergencies appear. No day is the same. The evenings leave time for keeping up with friends, the OeWF and the Red Cross.
This is how I spend my spare time:
At the moment, my life revolves around the final stretch of my studies and the renovation of the apartment I will be sharing with my girlfriend. Apart from these temporary issues, I spend a lot of time with the OeWF and the Red Cross. Lately, I also have been spending time skiing on the slopes.
Family status:
In a relationship.
How my friends would describe me:
Good natured, always being able to tell a good story, sometimes grumpy (if only briefly) – especially in the absence of coffee, calm in stressful situations, technically creative, but not artistically.
Me, Myself & I
These things are precious to me:
Family, friends, honesty
What drives me crazy:
Intrigues, talking behind someone's back, people who decide on the fate of others without their knowledge.
Something I would never do:
Travel to the Moroccan desert for a month… ;)
To relax I absolutely need:
A couch.
Something that once changed my life:
The experience from more than 15 years in the emergency rescue service. It allows me to look at life with a different perspective and taught me to appreciate what you have.
What is the most unusual / challenging / exciting / scary / funny thing you ever experienced?
The experience of how the "RioTinto Mission" turned a bunch of strangers into friends after just one week was unusual and very fascinating! :-)
Goal(s) & Motto
Something I would love to learn or to achieve:
To play "Sultans of Swing" on the guitar, for real…
My Motto / A saying I can identify with:
Nothing is impossible.
This article is available in: German
OeWF Offices
Office Innsbruck Etrichgasse 18, 6020 Innsbruck, Austria