Members from UK, France, Israel, Austria, USA (NYC), Sweden participated in an online tele-sim session. The training was hosted Weill Cornell Simulation Center, NYC.
The session began with a series of lectures and "table top" exercises to update the Israeli D-Mars team, On-site-support (OSS) members, current and new Biomedical Engineer (BME) members on the structure of the OeWF organisation, analog missions, risk management and some of the more important SOPs (major incidents, loss of signal, etc). This was then followed by 3 medical scenarios "based" in the field in Israel.
The session was hosted and run by Anthony Yuen (BME team member and SGAC Co-Chair) with his fantastic team of volunteers (Mike, Matt and Mihoko) and sim team. They had re-created an analog astronaut, who was in suit (see pictures), as well as the terrain of the desert to maximise the fidelity of the simulation.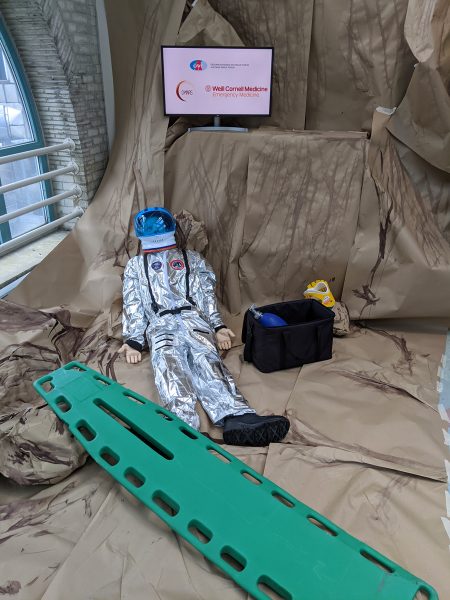 We also had an accurate list of medical equipment, which had been outlined by the D-Mars team.
The scenarios covered heat related illness, major trauma and a major incident at the habitat. Everyone was given the opportunity to participate in a variety of roles to gain experience in not only clinical management but also radio communication, resource management and leadership roles.
In/out of Sim was maintained until a code red was declared and radio communication as well as etiquette was maintained to maintain fidelity.
The volunteers were there to play the roles of the MedO (Medical Officer), AAs (analog astronaut) and Safety (as we obviously couldn't be there in person). This meant that who ever was allocated that role amongst the OeWF members, they would instruct the volunteers in the sim suite what to do (as if they were actually there in person) and they would carry out those instructions.

The sim-sessions were well received and of great benefit to all those who attended and only made possible by Anthony Yuen and his team.
Thanks to Anthony, all the volunteers, Sim team and to Cornell for allowing us to use their sim suite and their team.
Author: Lucas Rehnberg
OeWF Office
Büro Innsbruck Etrichgasse 18, 6020 Innsbruck, Austria