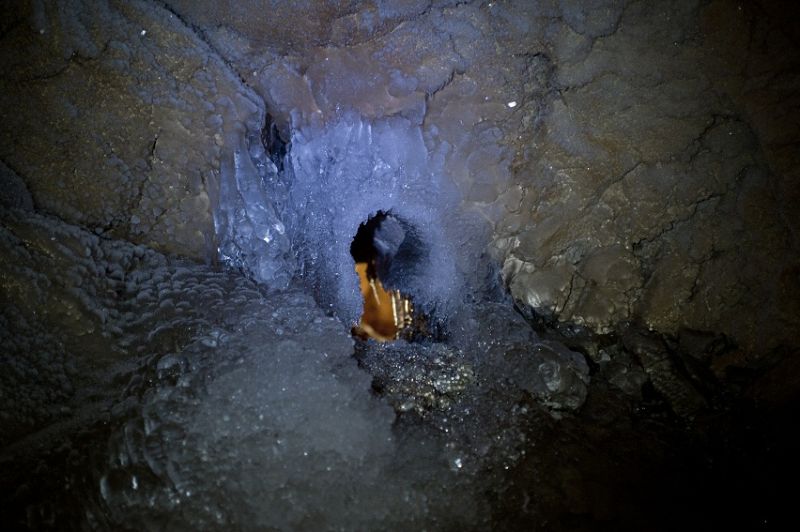 Entering the Dachstein cave, everything seems normal, just the big fresh air flow coming from the depths is a bit astonishing at once.
As the luminosity decreases, your pupils begin to open wider and wider to see one of the greatest natural monuments of Austria; the King-Arthur Dome stands there, with his impressive ice amount rooted in the frozen floor, 30 meters lower. One's may feel really small compared to this spectacular landscape, and will perhaps rethink his definition of human.
Along the path leading to the Parsival Dome, you may be attracted by the ice transparency which is even more striking with the lights set behind: from milky to crystal, from dark blue to light blue; Ice offers incredible color and texture shades depending on its location and on your point of view.
Also, the fabulous ice shapes sometimes seem nearly alive. Ice peaks, stalagmites, ice walls and sculptures improvised by the water flows are the (not so) common objects offered to your view.
Looking up: Red iron oxides intrusions on the ceiling of the Cave will give you a preview of what a Martian Cave could look like.
By now, you may think this place doesn't exist on Earth, if you slightly close your eyes, you may feel like in the underground of another planet.
Opening your eyes: an astronaut is performing his tasks on ice, no more doubt you feel like well landed on the red planet.
Marc Rodriguez
OeWF Office
Büro Innsbruck Etrichgasse 18, 6020 Innsbruck, Austria